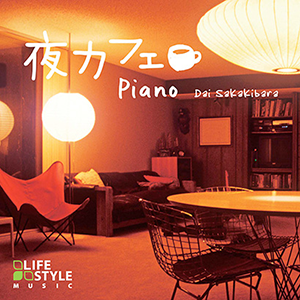 夜カフェ piano
2011/04/22
¥1,944(tax in)[DLDH-1853]
Della
■収録曲
01. Just The Two Of Us ジャスト・ザ・トゥー・オブ・アス 
(Ralph MacDonald / William Salter / Bill Withers)
©CHERRY LANE MUSIC PUBLISHING CO INC 
©ANTISIA MUSIC INC ©BLEUNIG MUSIC
02. The First Cut Is The Deepest ザ・ファースト・カット・イズ・ディーペスト
(Cat Stevens)
©Salafa Ltd.
03. Smoke Gets In Your Eyes 煙が目にしみる
(Jerome Kern)
04. Fifty Ways To Leave Your Lover 恋人と別れる50の方法  
(Paul Simon)
©Paul Simon Music
05. So Far Away ソー・ファー・アウェイ 
(Carole King)
©Colgems EMI Music Inc.
06. Viva La Vida 美しき生命  
(Christopher Martin / Guy Berryman / Jonathan Buckland / William Champion)
©Universal Music Publishing MGB Ltd.
07. Promising Sign プロミシング・サイン  
(Dai Sakakibara)
08. Back For Good バック・フォー・グッド 
(Gary Barlow)
©EMI Virgin Music Ltd.
09. The Greatest Love Of All ザ・グレイテスト・ラブ・オブ・オール 
(Linda Creed / Michael Masser)
©Gold Horizon Music Corp. ©EMI Golden Torch Music Corp.
10. Human Nature ヒューマン・ネイチャー
(John Bettis / Steve Porcaro)
©Sony/ATV Tunes LLC ©1982 John Bettis Music
11. Blue ブルー  
(Joni Mitchell)
©Joni Mitchell Publishing Corp.
12. This Masquerade マスカレード
(Leon Russell)
©CHRYSALIS ONE SONGS LLC
13. Feliz フェリース
(Dai Sakakibara)
©MOTRIZ Inc.
14. Lullaby Of Birdland バードランドの子守唄
(George Shearing / George David Weiss)
©1952/1988 EMI LONGITUDE MUSIC
15. Cavatina カヴァティーナ
(Stanley Myers / Cleo Laine)
©Robbins Music Corp ltd.
All arranged and sound produce by Dai Sakakibara
Co-arranged by Kiyoshi Murakami,Satoshi Ishikawa, Tetsuro Toyama
榊原 大(Piano) 遠山哲郎(Guitar)
村上 聖(Bass) 石川 智(Percussion)